Handled AUTOSEAL® Stainless Steel Travel Mug with Easy-Clean Lid, 16oz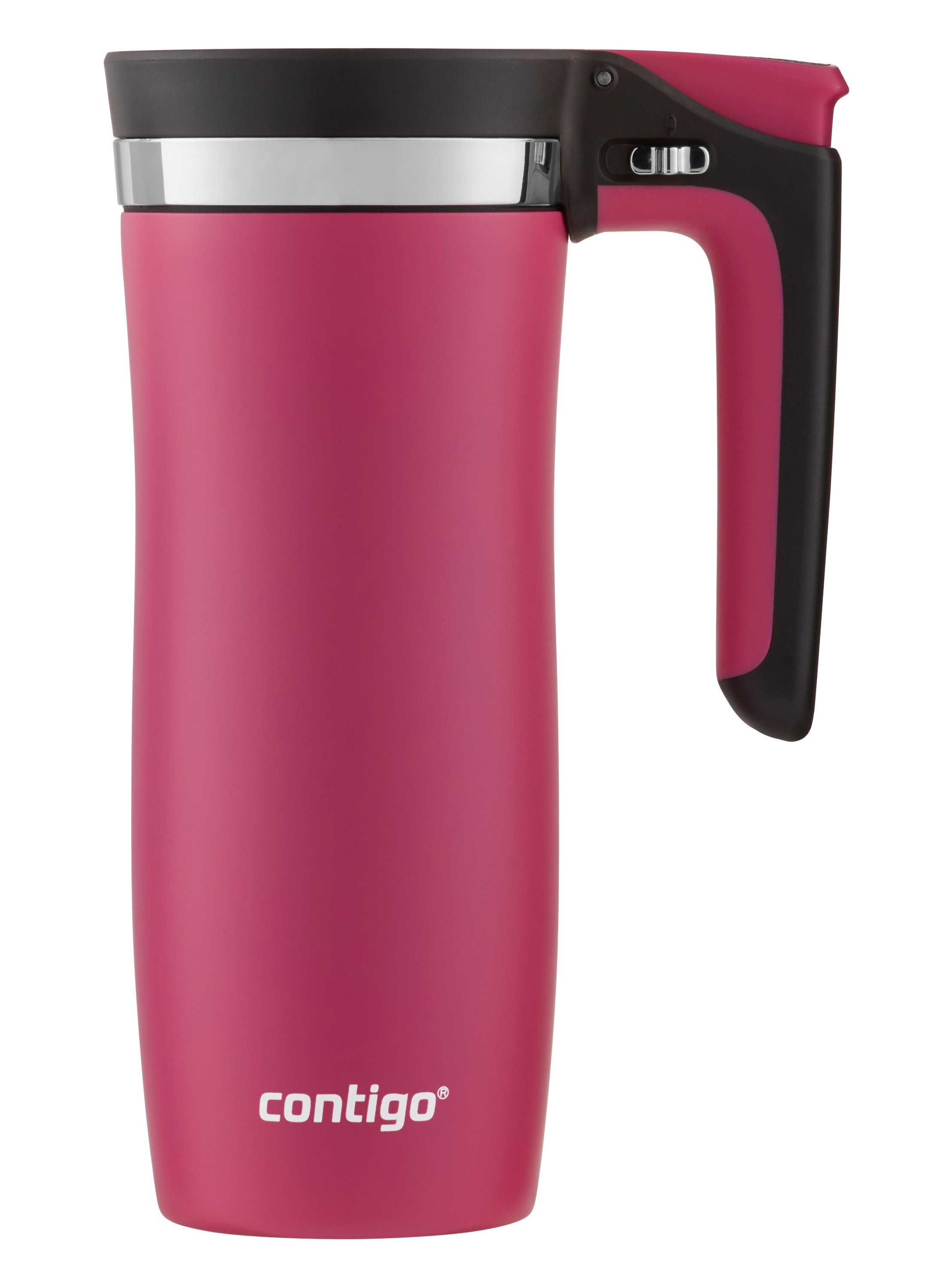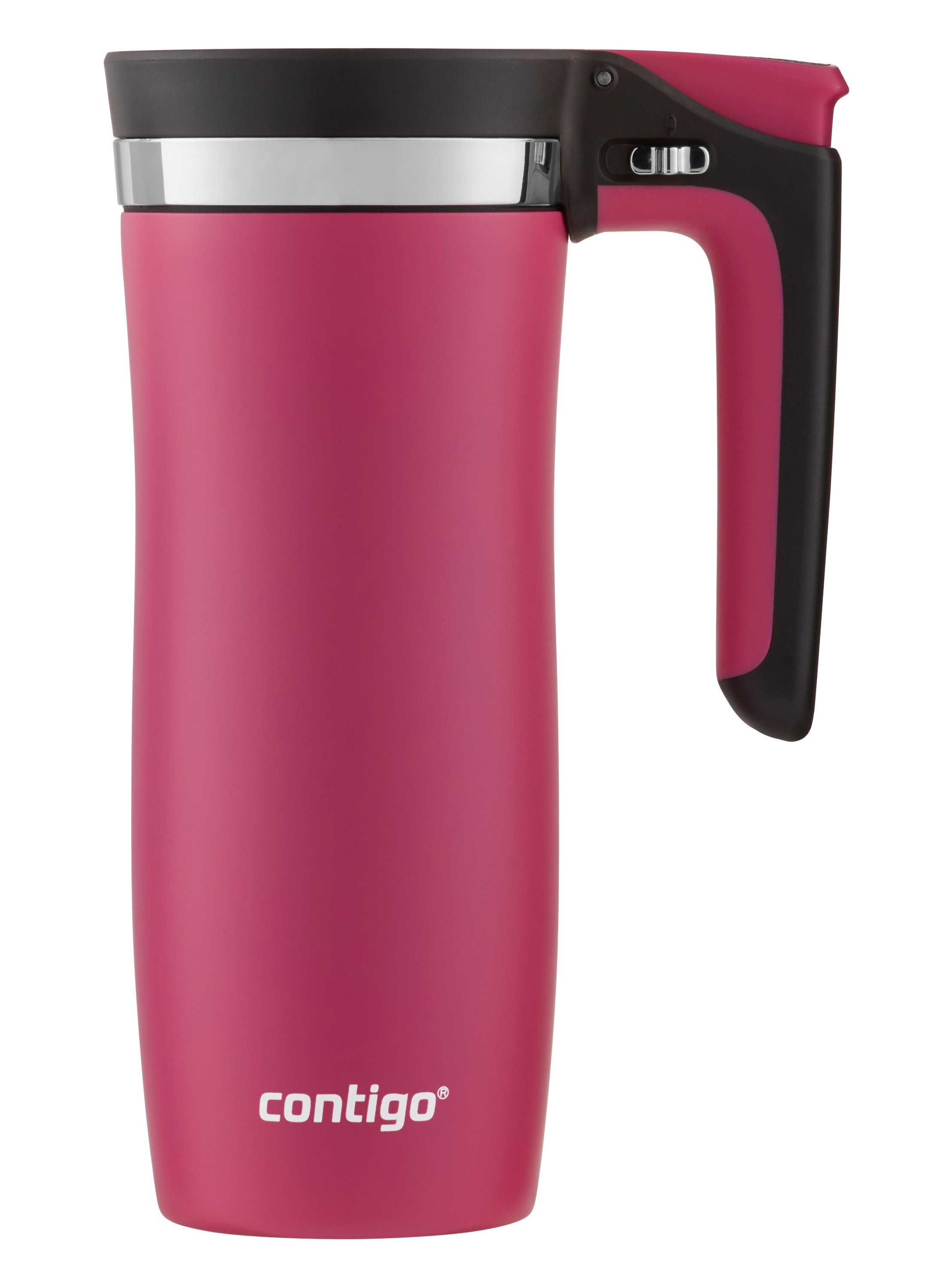 Handled AUTOSEAL® Stainless Steel Travel Mug with Easy-Clean Lid, 16oz
Final Sale: may not be returned or exchanged
Selection will refresh the page with new results.
Final Sale: may not be returned or exchanged
Product Details
Description
Our innovative engineers hate stains as much as you do. That's why, when designing the Contigo Handled AUTOSEAL Vacuum-Insulated Stainless Steel Travel Mug with Easy-Clean Lid, they made sure to include our patented AUTOSEAL technology, eliminating the possibility of spilling or leaking your drink whether you're at home, in the office, or on the go. They integrated a comfortable carrying handle into the lid without sacrificing the slim silhouette that lets your travel mug fit nicely into most cup holders, so it's even easier to take a day's worth of your favorite coffee or tea with you. Not to worry, THERMALOCK double-walled vacuum insulation means your beverage will stay piping hot up to 5 hours or icy cold up to 15. Use the discreet lock feature to prevent the unintended pressing of the AUTOSEAL button for added peace of mind. At the end of a long day, the top-rack dishwasher-safe Easy-Clean Lid pops open completely so you can get into all the nooks for a thorough clean. Just remember, the stainless steel body is hand-wash-only.
Features
Sip confidently knowing your travel mug's AUTOSEAL technology is leak- and spill-proof
Drinks stay hot up to 5 hours or cold up to 15 hours thanks to THERMALOCK vacuum insulation
Convenient one-handed drinking from either side of the lid with the push of a button
Carrying handle makes it more comfortable to take your mug on the go yet still fits in most cup holders
Button lock on lid prevents accidental opening for added peace of mind
Easy-Clean Lid opens completely for thorough cleaning and is top-rack dishwasher-safe; hand-wash-only stainless steel body
100% BPA-free; limited lifetime guarantee
Specifications
Body Material:

Vacuum Insulated Stainless Steel Body

Warranty:

Limited lifetime guarantee
Care & Maintenance
Top rack dishwasher lid, hand wash body
Rated

5

out of

5
by
amhy01
from
A must have!!!
This particular handle is very comfortable to hold with a nice rubbery grip. The button to push down to release your beverage is comfortable and seems to be placed at a natural height. I love that you can drink out of either side of the lid. So, if you grab the mug with your left hand, you can bring it right up to your mouth and take a sip. Same with grabbing it from your right side. You don't have to turn the mug around or find the hole to take a sip. The black finish is very nice. It does not seem to attract smudges or fingerprints. The handle is attached to the lid, which makes for easy cleaning.
Date published: 2020-08-03
Rated

3

out of

5
by
RandomHero
from
The lid is the weak point
I have owned several of these mugs over the last couple of years, and the Randolph model prior to that. I am generally happy with the product, I usually get three to four good months of use out of one before it develops issues. Currently, the thumb button does not seem to operate the lid spout leading to zero coffee flow. I am not sure why this is the case as I have pulled the lid apart and can not identify why it no longer functions. I would love to just buy a replacement lid but there do not seem to be any available for purchase on this site. So I will either buy a completely new mug or find a comparable mug from a competitor that is higher quality even if it means a higher price. I would recommend this mug to a fried but I would have some caveats to that recommendation.
Date published: 2019-05-21
Rated

1

out of

5
by
Mia87
from
Handle seal does not work after a period of time !
If it were not for the handle seal always failing , this would be a perfect spill proof coffee mug. I have 2 coffee mugs sitting in the cabinet with 2 failed handles. Its very disappointing considering this is a great travel mug minus the handle! The handle seals/resistance mechanism needs to be reengineered to make this a worthy product. Really a disappointment when you find a great mug, then it doesn't work after a period of time. Contigo could have a home run winner with this mug if the handle seals were designed to last. I would not recommend it at this time until they redesign the handle issue
Date published: 2020-08-01
Rated

2

out of

5
by
MsVinnie
from
You missed the ball on this one
Let me say first that I LOVE Contigo! I am the proud owner of at least half a dozen Contigo mugs. So I thought I'd try something new and bought this one on Amazon. Nope, don't like it. My favorite so far has been the Randolph. I've used them for years. So here's my problem. See that ridge that goes across the middle in the lower picture. It runs into my nose! The top of the picture is my older Randolph. No ridge down the middle. You missed the golden egg on this one. I won't be able to use it when I'm driving because I have to raise my head up to get the liquid, therefore taking my eyes off the road. Just sayin.......I'll look at the pictures more carefully next time.
Date published: 2020-05-13
Rated

2

out of

5
by
Angie H
from
Lid has major issue
This was my 3rd Contigo mug. Previously bought the Randolph and was very happy with it. When I lost my last one, replaced with this mug. After about 2 months, the lid no longer allows for coffee to flow. The thumb area will depress but the opening for the coffee to flow doesn't open. For some reason Contigo doesn't have a replacement lid like they do the Randolph. And in reading other reviews, it seems to be a design flaw as there are many with the same problem. Until they fix the problem, find something else.
Date published: 2019-05-30
Rated

1

out of

5
by
scorrea
from
Will not open the sipping hole w/ thumb button
Bought at Walmat, great looking mug. But, after only 2 months the thumb button will no longer open the sipping holes. I have look inside and everything seems in place. Great mug, it allows you to open the hole mechanism for easy cleaning. However, the open mechanism has stopped working.
Date published: 2019-04-30
Rated

1

out of

5
by
kkrod
from
thumb button cracked
great device with exceptions, my wife uses these and while loading the lid into the top rack in dishwasher it fell thru openings in rack. It hit the lower rack and a crack developed in the thumb button edge. now the cup will not open
Date published: 2019-04-19
Rated

1

out of

5
by
Garbage Man
from
Piece of Garbage
I have purchased 2 of these mugs over the last 18 months. Both of them turned out to be defective. The button on the handle that opens the top for the coffee to come out works, but the holes don't open. Useless! Both of the mugs lasted about 9 months before going bad. I can't but just replacement lids. I can't fix it. So, I'm stuck with buying a new mug every 9 months. These are 20+ bucks a piece. They should last longer than 9 months.
Date published: 2020-12-11
Rated

3

out of

5
by
Velcrodad
from
Want to like but......
We have used Contigo travel mugs for years. My wife and I received a pair of these for Christmas 2020. We previously had another older handled Contigo travel mug with a different style handle which worked great until you dropped them and the handles broke.. These new mugs keep the beverage nice and hot for a long time. Problem is that recently, the opener seems to have quit working well. Depressing it, only a trickle of beverage comes out. We are now back to using the trusty West Loop travel mug. It is unfortunate as we both prefer a handled version. Reading other reviews, it appears this is a common issue.
Date published: 2021-04-20
Rated

1

out of

5
by
Love hot coffee
from
No hot coffee in mug
I have used Contigo products for years and have been satisfied over all. I have used 4 of the travel mugs for a couple of years, and just tossed one yesterday. The seal no longer worked causing leakage. I was so excited when looking for new one when I found the mug with handle, which was the only concern I ever had with the travel mug. So I washed up the mug, let it dry, and filled it with freshly brewed coffee at 6:30 am. By 8:00 am, the coffee was maybe lukewarm - going cool. Will return the mug, Might exchange and try another. Really like the design.
Date published: 2020-02-25
Rated

2

out of

5
by
john62
from
Does not open any more
This has been my go-to mug. I drink coffee 365 days a year and this is one of the few Contigo mugs with a diameter small enough to fit my cup-holder. It's ambidextrous and spill proof -- perfect until it quit. I purchased this model for the Easy Clean lid (after my daughter say the inside of a previous Contigo lid). But I got less and less coffee until now barely a trickle comes out. When I press the lever, it does not open. I cannot find any indication that anything has broken. The initial performance was great. It just seems to have worn out.
Date published: 2020-02-17
Rated

1

out of

5
by
Baumer
from
poor lid engineering/spring
The travel mug is great, but the lid has failed less than a month after purchase. The handle trigger doesn't work any more and the lid stoppers wont open! The springs are all in place, but they have lost their strength due to cheap metal? or the springs are nor just not the proper strength. Gave one as a gift and that one has also begun to fail. Very disappointed in this product. One would expect better from a company with a great product to let a lousy spring ruin it.
Date published: 2020-06-01
Rated

2

out of

5
by
CaraMKE
from
Lid failure on both mugs in 2-pack!
I bought a 2-pack of this mug and LOVED them.....until the lids on BOTH mugs failed - exactly what all of these other reviews said (and I ignored because I own many Contigo products) The button on each lid will no longer open the rubber stopper arm. You can't even get a sip! Total frustration, as these were quite expensive mugs.
Date published: 2020-01-21
Rated

2

out of

5
by
MarkieG
from
Great at holding drinks at temp.; not so great lid
Pro: have to let my coffee cool a bit before putting the lid on, or it's too hot to drink! able to keep ice cubes from melting in a drink for several hours in the hot sun. Comparable performance to that more expensive brand. Con: After about a year of use, typically 5 days a week, the thumb button mechanism is not working properly, so liquid doesn't flow enough, and dribbles out of the slot in the lid. I have always hand washed the lid and never ran it through the dishwasher. At this point, it is unusable.
Date published: 2020-06-17
Rated

3

out of

5
by
Jimmy615
from
Keeps cold drinks cold and hot drinks hot
We've used the Randolph not for years then we found the Contigo Handled AUTOSEAL Vacuum-Insulated Stainless Steel Travel Mug with Easy-Clean Lid. We noticed that there was always plenty of ice left in the mug the next day when I would head out to work. Unfortunately, we also found the same issue as most of the reviews I've read about this mug. The lid mechanism deteriorates over a short period of time and stops working. I thought I had may have caused this somehow but it seems to be a design flaw. Also, like so many others, I was looking to find replacement lids and surprised to find that replacements are not offered. The mug keeps ice as long as my Yeti. Too bad the lid doesn't hold up longer.
Date published: 2019-12-03
Rated

2

out of

5
by
RachealMarie528
from
Sad
My husband has one.. his works great which is what made me want one particularly with the lock. So I got one yesterday with a handle.. I am severely disappointed. My ice melts fast (with just a couple of hours) and the outside of the mug gets very cold. Somehow the cold comes thru the mug.. no leaks ect. But literally within 2 hours I have almost no ice and within 3 or 4 hours my water is completely warm/room temperature. I would not recommend based off of the reason for getting it is because I wanted ice water for long periods of time.. and my particular mug doesn't do what it should.
Date published: 2021-06-07
Rated

2

out of

5
by
Coffee Drinker 99
from
Loved the design BUT Handle Button Stopped Working
I loved the look and design of this travel mug. It worked awesome and kept the coffee hot for hours but the handle button stopped working after 4 months. The company replaced it and after 4.5 months the replacement had the same problem. I'm going to try the Randolph design instead. If Contigo can figure out the problem and fix it, I would buy this item again as I was very happy with it while it worked.
Date published: 2019-05-31
Rated

2

out of

5
by
finky43
from
Lid design needs work
I purchased numerous contigo mugs and such. Bought 2 of these and the lid design is terrible. After a while it will not open when you push the lever down to get a drink. This happened on both so I doubt I just had a bad one. Now my other contigo mugs still work great. I just liked the color of this one. Useless now. I wouldn't pay for a new lid to work for a short time again.
Date published: 2019-06-17
Rated

5

out of

5
by
BarbieJo
from
Hubby loves it!
My husband received this mug as a Father's Day gift from our son. He assumed that it was "just another mug," not really understanding how awesome Contigo products are! (I have 3 auto-seal's myself!). My husband had had an accident, falling 20 feet and subsequent shoulder surgery so he needed something with a handle. (He can't grasp a mug without a handle, therefore he couldn't try my mugs.) He absolutely fell in love with this mug the first time he used it. It keeps his coffee hot until the last drop! It's spill-proof, which is wonderful for him, as he drops a lot of things from his hand not having full use. Now, if for some reason I try to give him his coffee in anything but this mug, he grumbles! He liked it so much that when my boss was retiring due to medical issues, he recommended that we purchase one for him. It was a huge hit!
Date published: 2019-06-17
Rated

1

out of

5
by
Billybobsled
from
No coffee flow
We have owned Randolph's over the years. My wife now has this latest model and has the same issue others have reported about no coffee coming out. I looked at it and found that when pushing the button, the gaskets do not move at all. The little piece that moves the spring mechanism lowering the gaskets seems to be doing its job. However that does not move to open the gaskets. My other complaint is no room for my nose like the Randolph has.
Date published: 2019-06-26
Rated

5

out of

5
by
Bubbie
from
Best coffee mug in the world!
I am buying another one because this one is so old and banged up - I am buying an exact duplicate!
Date published: 2020-07-25
Rated

2

out of

5
by
KeithKo
from
Very disappointed
I've been using Contigo mugs for years, and typically love them. Not a fan of this handled one. Started out happy with the mug, but after only 7 months it has basically become useless. The thumb button that opens the mug has loosened to the point where the holes do not open very far, resulting in coffee leaking out the vent hole and onto my shirt. Guess I'll have to abandon this mug and resort to using one of my old ones.
Date published: 2019-07-29
Rated

3

out of

5
by
Tango Tango
from
Good at First, But Deteriorates
I Feel Exactly As This Other Reviewer Commented, In Fact I Copied His Comment Verbatim: This mug has performed very well for the past year. It's easy to use and keeps coffee hot for s long time. However, (here it comes) I'm having the very same problem with the lid that so many other reviewers are reporting. The thumb button mechanism no longer opens the drinking holes. It seems to have worn out. I agree that it seems like a design flaw or quality problem. I'm very happy with my Contigo products overall, but they have to do better than this. Too bad, too, because I love the style and ease of use for this mug. Also, I can find no replacement lids for this model. If the lids are failing at this rate, they should at least offer lids.
Date published: 2021-06-21
Rated

2

out of

5
by
Jinm
from
stops working
So I'm on Contigo 4. They work great for the first few months and I like them since I'm on number 4. The problem is that after a few months of daily use the self sealing lid becomes a permanantly sealed lid. I took the first two back to the original sales vendor and got two more but it was work. I will now be attempting the secon two, I pened this review wanting to insure Contigo was aware of the issu and that anyone buying a $20 coffee cup would know of the issue. On the positive side; it works as advertised. release the pour lever and you can turn it upside down and not get any spillage. I wouldn't say I would recomend this product to a friend but I have told them about the Contigo and the fact that I'm now on number 4. I hate to tell a friend about a product I know won't last but I also love the termal heat retention and the no spill application.
Date published: 2020-05-22
Rated

2

out of

5
by
Rocky112016
from
Will not open
Husband loved his mug that he purchased from Walmart until a couple of months in and the lid will no longer open from the lock position. Very disappointed.
Date published: 2019-05-14
Rated

5

out of

5
by
Casiev
from
Longest cold cup ever
I absolutely love this product it is my favorite cup ever. This product is absolutely amazing as it kept my eyes water cold all day and also can keep my coffee hot throughout an entire work day. I would give this product 10 Stars if I could it is a perfect size it even has a lock so you're not accidentally opening and also is spill proof which I tested and it actually does not spill the easy press button to take a sip is it at the perfect comfortable location and this mug is absolutely perfect I will definitely be buying more and I highly recommend
Date published: 2020-07-27
Rated

3

out of

5
by
Bill P
from
Nice Travel Mug
I've had this mug for three months and it was working fine but now the container won't dispense liquid when the thumb button is depressed
Date published: 2019-05-25
Rated

3

out of

5
by
CBrown0110
from
Good but wore out quick
I purchased at a Walmart on a weekend trip in February to watch college softball when the lids on the hotel coffee mugs kept cracking and leaking coffee. I LOVED this mug. Except for the last week, the lid started leaking coffee everywhere when I tried to drink. I cleaned the lid really well thinking it might be something in there. I also tried all the mechanisms to see what was causing the leak. I would love to try another one but after reading the reviews I think I'm going to have the same problem. It wasn't a cheap travel mug.
Date published: 2020-05-07
Rated

2

out of

5
by
Parker
from
Doesn't last
This is the fourth travel mug we have had from Contigo. The first was Contigo Randolph Autoseal. It had a handle with a lever you pushed down. The lever stopped opening the two holes that let the coffee through in less than 6 months. I like the idea of one hand opening for coffee flow so we are now am on the next 3 mugs, all the above Autoseal style. My wife had one as I did. After a few months the spring lever on top would not open the two openings. I contacted Contigo and they sent me a new replacement. In the mean time I was using my wife's and the same problem. When the replacement arrived, after several months, same thing. In all models there appears to be a spring that opens the flow holes or in my case doesn't for all. I use it every day and not one has lasted more than 6 months. Tired of going back to Contigo if this will always occur. Have read on web others have the same problem. No more Contigo.Off to Thermos.
Date published: 2020-05-11
Rated

1

out of

5
by
Lee65
from
Don't waste your money
I bought the contigo leak proof mug because I got tired of my beverages leaking while riding my motorcycle. I like the first one so good I bought another. But to my surprise they both started leaking after a month. The gasket in the lid popped out. I can't tell you about their customer service they are impossible to get ahold of. I wash my hands of them.
Date published: 2021-02-02
bvseo_sdk, dw_cartridge, 18.2.0, p_sdk_3.2.0
CLOUD, getReviews, 0ms
reviews, product
product-detail-view
oos-pdp