Trekker Kids Water Bottle with AUTOSEAL® Lid, 14oz, 2-Pack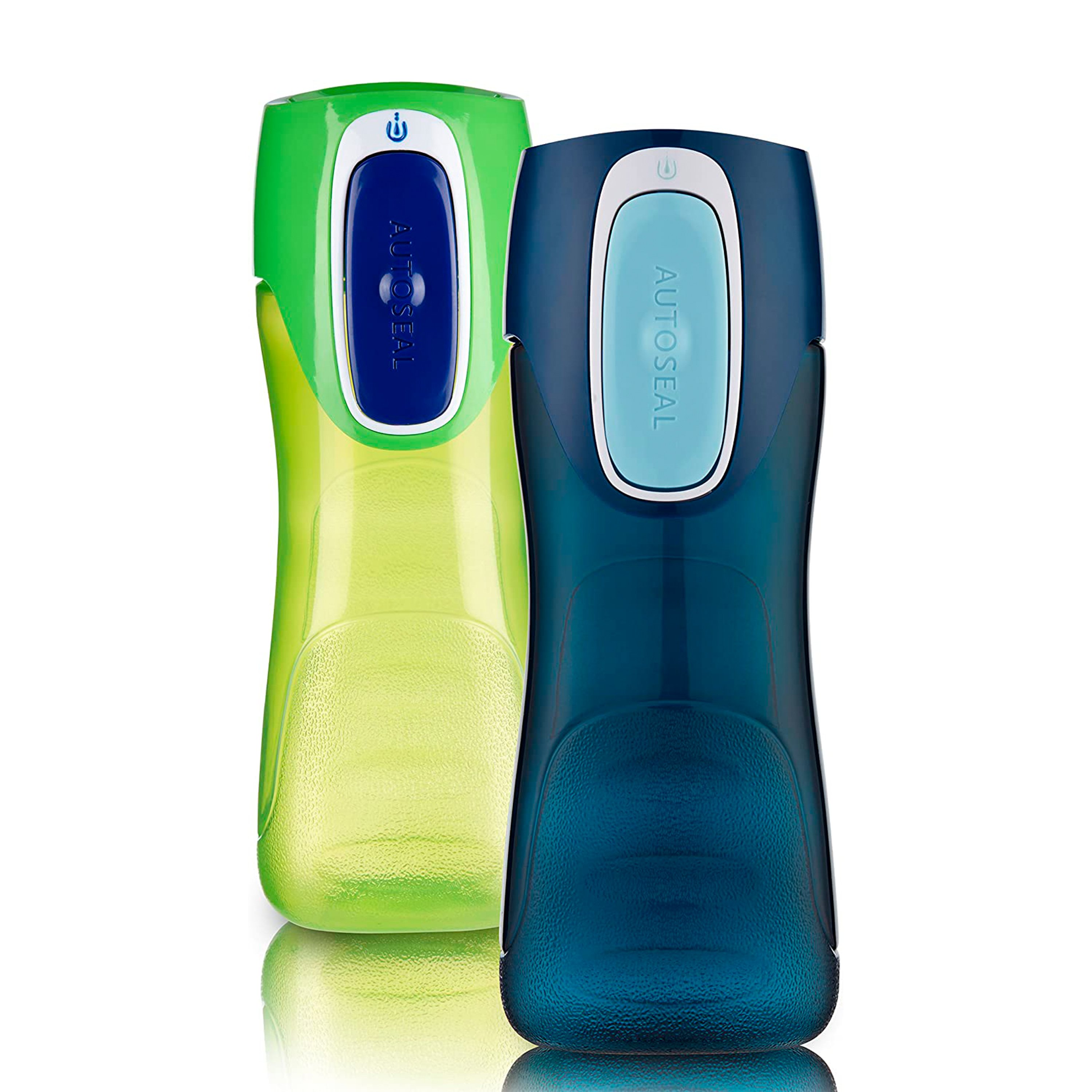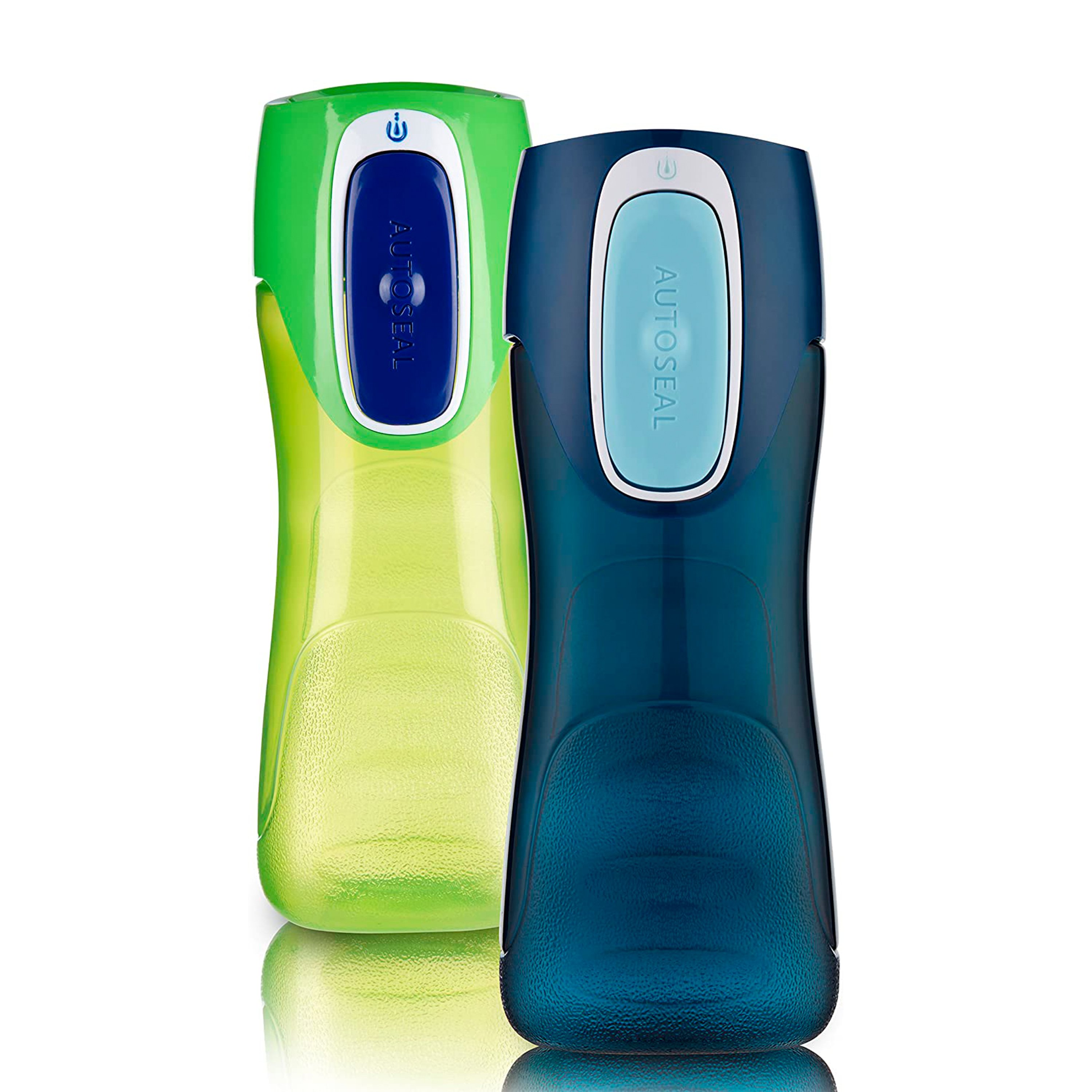 Trekker Kids Water Bottle with AUTOSEAL® Lid, 14oz, 2-Pack
Final Sale: may not be returned or exchanged
Selection will refresh the page with new results.
Final Sale: may not be returned or exchanged
Product Details
Description
What you've heard is true, active kids and parents can live a spill-free life. The 14 oz. AUTOSEAL Kids Trekker Water Bottle is ideal for kids who have outgrown sippy cups but haven't outgrown spilling! This BPA-free bottle features a one-touch AUTOSEAL lid that automatically seals between sips for easy, mess-free drinking! Just press the button to sip and release the button to automatically seal! Also, the easy-grip shape makes it ideal for small hands to hold (perfect for kids ages 3 – 10)! This water bottle is great for kids on the go, in the car, or packed school lunches, and parents love that the Trekker is top-rack dishwasher safe for easy cleaning.
Features
100% BPA FREE.
Patented AUTOSEAL lid is 100% leak-proof and 100% spill-proof. Lid is also one piece, meaning no loose parts.
Drinking made easy! Press to sip. Release to seal. The AUTOSEAL Kids Trekker Cup automatically seals between sips to ensure no spills.
Easy-grip shape makes this kids cup easy to hold for smaller hands.
Phthalate- and PVC-free.
Specifications
Color:

Granny Smith & Nautical

Body Material:

BPA-Free Plastic Body

Dimensions:

3" across widest part of lid x 7.25"H x 2.7" diameter at base
Rated

5

out of

5
by
MelsyMelMel
from
Daughter loves it!
My daughter is always needing new cups to take on the go and always leaking or spilling. But her new Contigo Kids AUTOSEAL Trekker Water Bottle is amazing. It came in a 2 pack and in her fave colors too. Which is a win win for me and her. The two pack water bottles are 14 oz and easy to use. Easy to push a button and sip from. No leaks, no spills, equals one very happy mommy and daughter. These are great to take anywhere, in the car, to walk or hike or even just at home.
Date published: 2020-08-25
Rated

5

out of

5
by
Kendall77
from
No spill!!
Love this for the kids it's easily used uses press the button and it opened it up for you to drink it stays locked so with my kids throwing everything they're really heavy duty cuz they can handle being thrown into walls without breaking works perfect it's not like what the straws in the other sippy cups that when you put soda or something in it it starts fizzing and leaking really bad this one I found doesn't so I highly recommend if you have crazy wild kids like me
Date published: 2020-07-30
Rated

5

out of

5
by
Amybaby260
from
No more missing straws!!
I'm a pretty easy going parent till a kiddo wants a certain cup of hers but lost the straw a week ago. This solves the tantrum, the endless crying...no more straw to lose, no more leaks, she cant chew on it, and it closes pretty tight so I know shes unable to open it. It's durable also, threw it across the room during said tantrum because " She needed Mickey cup"... Its a love hate relationship, trust me. Try this cup, You won't be disappointed.
Date published: 2020-08-16
Rated

5

out of

5
by
Christine1
from
In love with these!
So I have seen these multiple times in store. I have looked at them over and over but never thought to buy them. Well now we have them. I got my girls them for our road trip. I love love love them! They really do not spill! The child has to push a button to open and drink. This would make it harder for little kids. But I have a 2 and 7 year old and they both it got it down quickly. They are abs perfect!
Date published: 2020-08-19
Rated

5

out of

5
by
Richellemp1
from
Perfect bottles for traveling
As many know, traveling with a toddler is hard and adding a water bottle that leaks or has lots of parts to clean doesn't help. These bottles are the perfect size for her hand and holds just enough liquids. My daughter was excited to see 2 bottles - she said her and mommy can match! I will add that the button is a bit hard to push for a small toddler but after some practice she was fine.
Date published: 2020-08-05
Rated

5

out of

5
by
Msinfatuation
from
Perfect water bottles for kids
These cupsare super easy to use. My nine-year-old and two-year-old uses constantly. They don't leak they stay sealed. I can just put them in my bag and go. They are just the right size and I can get one color to one and one color to the other and they don't get mixed up. I have seen that this is a really good water bottle for my nine-year-old to take to school easy to use easy to clean.
Date published: 2020-08-10
Rated

5

out of

5
by
mcredden
from
Work pretty well
My son has hypotonia and struggles with opening normal water bottles. Enter these bottles! He is able to open and use these with less issues than the other bottles available. They seem pretty durable however he is 7 now, so I don't know how they'd hold up if they're thrown etc by a toddler. But they're great for on the go drinks for the kids. Easy to use and clean.
Date published: 2020-08-07
Rated

5

out of

5
by
RebeccaF
from
We use this Bottle Everyday!
Very well-made and durable Bottle for your favorite Drink! I use these everyday, one for my daughter and one for me. Screw on/off cap that seals tight, push opening. Never need to worry about leaks as this simply does not leak, not even a drop. Quality product that last, I have dropped mine several times with no damage inflicted and no leaks. Very pleased with these!
Date published: 2020-08-12
Rated

5

out of

5
by
MathMama
from
These are the best!!
I love these for my kids. Sorry, was I not clear enough? I. LOVE. These. For. My. Kids. We have had these cups for a while now and they are amazing. They don't spill. At all. (Full disclosure, they can be poured...) These are easy to clean and different colors mean never having to referee fights over who stole who's cup. 10/10 will buy again!!
Date published: 2019-06-13
Rated

5

out of

5
by
ss19ss82
from
Great quality!
I have found using Contigo AUTOSEAL Trekker Kids Water Bottles, 14 oz, Granny Smith & Nautical, 2-Pack very helpful to use with my young kids. It is spill proof and also easy to use. Closes and opens easily. Auto seal ensures I can include these bottles in my kids bag without worrying about spilling. I highly recommend them as a great buy!
Date published: 2020-08-02
Rated

5

out of

5
by
Kayladiana
from
Perfect for my kids
Contigo is always our go to brand for water bottles. Especially for kids. These bottles impressed, as always. I love that they don't spill or leak. My kids squeeze the button easily at ages 3 and 5, and are able to drink and then release the button to make sure no spills happen. They are easy to clean and hold up well to their adventures.
Date published: 2020-08-01
Rated

5

out of

5
by
Feena
from
Best Water Bottle for Kids!
We have been using Contigo products for years! This water bottle is perfect for kids! My son loves it. I love the fact that it doesn't leak at all. The water stays cold all day long without having to add more ice. My son loves that it fits his hands better than the adult versions. He uses his water bottle every day.
Date published: 2020-08-03
Rated

3

out of

5
by
BikerMama
from
Great option
I was a little skeptical about thses bottles because my children are 5 and 3 but they are pretty good. Best part about them is NO SPILLS!! My 3 year old does have some trouble pushing the button in but other than that they are pretty good ones to have. Definitely have to have ice in it because they do get hot fairly quick.
Date published: 2020-08-03
Rated

5

out of

5
by
Olb23
from
Awesome bottles!
I have really loved these bottles for my daughter. They are a perfect size and never spill. To drink out of them you have to hold a little button and when you are finished you just let it go and it closes back up. They never have to remember to put a top back on because it automatically closes. Great for trips in the car!
Date published: 2020-08-10
Rated

5

out of

5
by
CatMc99
from
Perfect, even for my 2 yr-old
The Trekker water bottler is really great for toddlers. I love that it really is spill-proof, is dishwasher safe, easy to get the cap on, and is overall a great bottle. My daughter just turned two and it took her a second to figure out how to squeeze and drink, but she got the hang of it really quickly.
Date published: 2020-08-07
Rated

5

out of

5
by
MaMaKittyKat
from
Nothing spills out!
The Contigo Kids Bottle is just the right size for my kindergarten's little hand. He's able to put the lid on himself and it seals tightly. Even if he drops it, nothing spills out. He's a big water drinker and likes to take his Contigo wherever we go. My favorite part is it's dish washer safe.
Date published: 2020-08-09
Rated

5

out of

5
by
ynotretism
from
Awesome
My daughter absolutely loved these bottles. She was happy about the colors and how the bottles are spill and leak proof. As soon as they came in she grabbed them, washed them, and starting using them . They fit great in her backpack as well which is going to be great for when school starts.
Date published: 2020-07-30
Rated

5

out of

5
by
Cort
from
Cool.
Started using these today and my kids have loved them, super easy to fill and carry around. My kids took them on their bikes where they fit perfectly into the water bottle holders and my kids love the push button to release and I love that they can get knocked over and never spill.
Date published: 2020-08-04
Rated

5

out of

5
by
Krnicholson14
from
Amazing
I got these for my two daughters (ages 4 and 8) and these cups are absolutely perfect.. especially for my 4 year old!! Push the button in to open up to drink and tilt it back. Not hard to push the button down. Very easy to use. Pretty colors. Great for kids! And no messes!
Date published: 2020-08-03
Rated

4

out of

5
by
Kaitwait113
from
Good for kids, no spills
I really liked these for my 4 yo. He liked that it didn't have a straw because he felt grown up. I liked that as well, a departure from sippy cups. He dropped it a lot with no spills. The button on the cover did eventually break after about a year of use/ drops.
Date published: 2019-06-18
Rated

5

out of

5
by
Peace92
from
Auto seal trekker
Absolutely love this product for my son! It doesn't leak at all. My son has a bad habit of always spilling when he doesn't want to drink anymore but now he can't!! So many other bottles claim no leaks but this one is true no leaks at all!! Highly recommend !
Date published: 2020-08-08
Rated

5

out of

5
by
Jkb1326
from
Best water bottle for kids!
I ordered these water bottle online a few weeks ago and they came in quick. They came in a two pack, green and blue. Which worked out perfect for my to kids. They love how their water doesn't leak and how easy they are to use. Will be looking to buy more.
Date published: 2020-08-03
Rated

5

out of

5
by
Tonianne98
from
Best so far!
we have been through the ringer on our kids' water bottles with leaking and difficult pieces. This is a very simple 2 piece bottle and it hasn't leaked! The big test is at night when it inevitably gets knocked over in bed, but this one has held up!
Date published: 2020-08-07
Rated

5

out of

5
by
Fenton000
from
Doesn't leak
We use these for in the car and in my son's backpack! So far no leaks! Easy to use and not to hard for my son to press the button! My son loves it as well, and I don't have to worry about his water bottle leaking in his bag at camp or at school!
Date published: 2020-08-02
Rated

5

out of

5
by
Vramos93
from
Best water bottles
In love with these bottles. Came in a pack of 2 one for each of my daughters. They definitely loved the colors were bright. I in fact loved that they are spill proof. You have to hold on to the button in order for the drink to come out.
Date published: 2020-08-04
Rated

5

out of

5
by
JenG
from
Best Water Bottle for Little Kids
My 4 year old daughter loves this water bottle; It is easy for her to use, it doesn't leak and it looks like a grown-up water bottle. I also love it because it doesn't leak but also because it is easy to clean and is the perfect size.
Date published: 2019-06-17
Rated

5

out of

5
by
Seasons1981
from
Perfect!!
I absolutely love how easy this was to use. With a special needs child who spills all my drinks, this makes it easy to keep that from happening. It is the perfect size to keep me hydrated and refreshed without having to keep filling.
Date published: 2020-08-02
Rated

5

out of

5
by
Melissaxx3d
from
Great water bottles
Absolutely love these water bottles! Perfect size and the squeeze function to drink is great. No leaks and and easy to hold design! The colors were very cute and totally kid approved. Great design and our new go to water bottles!
Date published: 2020-08-07
Rated

5

out of

5
by
Albertaw
from
Contigo Kids AUTOSEAL Trekker Water Bottle
I go the Contigo Kids AUTOSEAL Trekker Water Bottle 2 pack for my 3 and 4 year old. They are easy to hold and use. The auto seal works great. These are perfect for when you are on the go. The button to drink is very easy to push.
Date published: 2020-08-04
Rated

5

out of

5
by
Kristyn
from
Amazing quality!
I got these just in time for my boys to start school, they are perfect! They love filling up their bottles and they haven't leaked once. I love the button that opens up the valve, very trendy. Great price and quality! Get these!
Date published: 2020-08-02
bvseo_sdk, dw_cartridge, 18.2.0, p_sdk_3.2.0
CLOUD, getReviews, 0ms
reviews, product
product-detail-view
oos-pdp